deputyrt.edublogs.org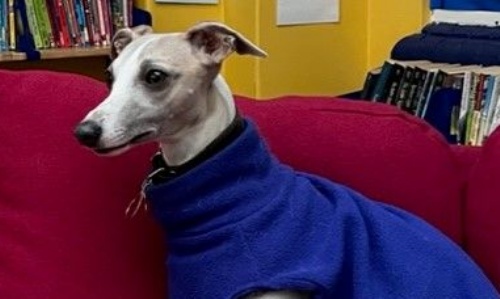 Nelly – 'A School Dog Blog'
I think I should start by telling you a little about Nelly & about the reasons why she makes such a great addition to our school.
Nelly joined my own family at 12 weeks – she'd been born into a house with 17 other puppies – yes, that's right; Nelly spent her early days with 17 beautiful Whippet Puppies; learning to fend for herself, fight for her place (and her breakfast no doubt) and this gave her a wonderful strength of character but also patience & consideration of others. Having observed all these qualities in Nelly, I knew she would make a great School Dog.
Nelly made her first appearance at Bond Primary School around Christmas 2022. She wasn't even 2. Yet as we arrived onto the school grounds, the promise of a school field, complete with squirrels (and the odd fox) seemed to put her at ease.
So Nelly showed up one chilly, December afternoon as the end of term approached, with an abundance of patience, standing still while children lay on the floor looking at her legs, stroking her and talking at her rather loudly and excitedly all those weeks ago. And then slowly, I identified children that would really, really benefit from seeing her, spending time with her and playing with her.
Fast forward to March 2023 and Nelly isn't yet a full time member of our school but she is having an impact when she is here. She comes most Fridays and works with a handful of children. A great many more know Nelly; call out to her, smile at her as they walk past – even the adults are becoming more accustomed to her presence.
The children she works with have lots of different additional and sometimes complex needs; a range of SEND, SEMH & childhood traumas; yet Nelly brings them altogether & we get her to sit – being clear in our speech and instruction, we get her to run and chase a ball and we just enjoy her. And that makes me smile. It makes us all smile. She's even joined a few of my meetings (and fallen asleep), much to everyone's amusement.
And then it begins again – 'When's Nelly coming back?, Can I see Nelly, Is Nelly ok?' -it is comments like this that confirm that Nelly, our school dog has had an impact already and I can't wait to see what the future holds for her.
@deputyrt March 2023